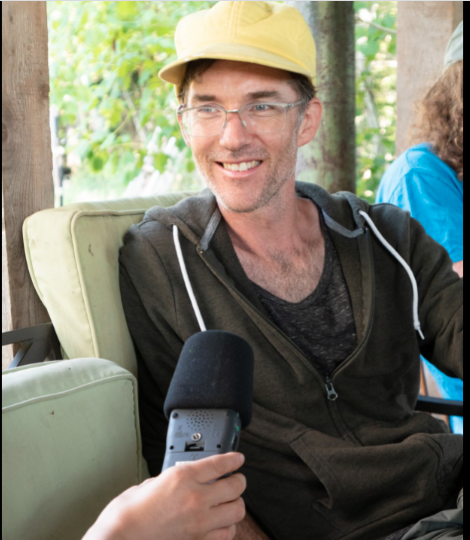 Brian Riley
Brian Riley is a professional Wolfville based artist. His is an award-winning sound designer and composer for theatre and dance. His practice involves community-based arts and puppetry, often in large scale.  
He grew up in rural Nova Scotia where he studied and toured with music ensembles including the Antigonish Highland Society Pipeband, Dr.J.H. Gillis Percussion Ensemble, and his funk group Batuka. He studied Recording Arts at Nova Scotia Community College in 2003, and apprenticed with producer Laurence Currie at Idea of East Studios. From 2004 to 2008 he worked at Neptune Theatre managing the sound department, mixing musicals, and sound designing mainstage shows. He studied community arts facilitation with Jumblies Theatre and The 4C's Foundation and has trained at Halifax Circus in acrobatics, club juggling and fire-spinning. He has trained in collaborative leadership through 'Art of Hosting' trainings in Karlskrona, Sweden, Moncton N.B. and Halifax N.S.
He toured the western United States with musician Brett Nelson in 2008 and travelled with theatrical productions to Toronto's Rhubarb Festival (2009) and The Magnetic North Theatre Festival (2011 Ottawa/ 2016 Whitehorse.) In the past few years he has also toured to Bristol England, Cleveland USA, Preston England, and Vancouver with Zuppa on 'Pop Up Love Party' and 'How Small, How Far Away'.
Brian has composed and performed for Mocean Dance on 'Wild Within' (2019)  'Standing Alone Facing You' (2016) and Mocean's 15th Anniversary Celebration titled '15'.  He also composed for Lisa Phinney on her piece 'Entangled' which was presented by Live Art Dance in 2017.  He did sound designs for choreographers Jacinte Armstrong( 'The Ark' – 2013) and Rhonda Baker (The Movement Project – 2014).
Selected theatre credits include Merritt award-winning sound design for Zuppa Theatre's Pop Up Love Party (2015), How Small How Far Away (2013/2016), Composing for Secret Theatre's Landline (2013), Folklore mobile (2012), We Are Here (2011), and The Common (2010). Collaborating with DaPoPo Theatre Brian worked to create The Drinking Game (2012). He has performed solo works at the Suitcase Festival, Lilah Kempt Reading Series, and the Art Gallery of Nova Scotia. He has co-artistic directed Circus of the Normal (2013), The Potato Circus (2013), Circus of The Revolution (2014) The bp Nichol and Playmaker Olympic Circus in PEI (Art in The Open) and Circus of the Phenomenon(2016). These circuses were community-driven performances created by professional multidisciplinary artists and community members.   
His worked with Bread & Puppet Theatre (Vermont USA) in 2012. Starting as an apprentice, he was asked to continue as part of the company for the remainder of the season. Brian returned to Vermont in 2013 to continue work under master puppeteer and artistic director Peter Schumann, performing in weekly shows and parades.
  He has done residencies in rural communities and urban institutions. He has created youth programs including Spiral Studio Lab(2012-16), Project Sing!(2011), Telling Truths (2012), and Rock Cafe(2010).